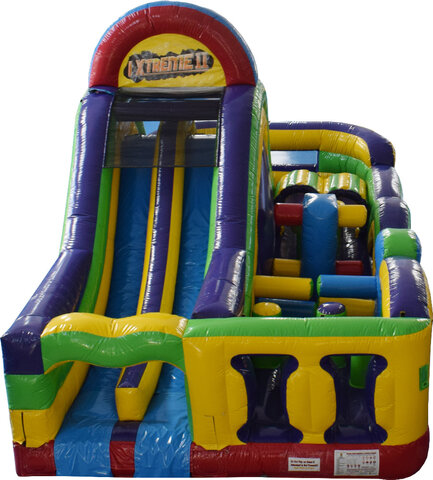 Retro Xtreme Obstacle Course Dry or Wet w Pool
Retro Xtreme Wet/Dry Obstacle Course
Looking for an exciting and challenging obstacle course that will take your event to the next level? Look no further than the Retro Xtreme Obstacle Course! This incredible inflatable features a range of obstacles that will test your strength, agility, and endurance, including crawl-through tunnels, climbing walls, and a giant slide.
But the Retro Xtreme Obstacle Course isn't just about physical challenge - it's also a blast to look at! With its vibrant colors and retro-inspired design, this inflatable is sure to be a hit with guests of all ages. And whether you choose to use it wet or dry, it's guaranteed to provide hours of fun and excitement.
So if you're looking for a high-quality obstacle course that will make your event unforgettable, be sure to check out the Retro Xtreme Obstacle Course today!
Request water option on your order for us to attach the pool at the end of the slide! Pictures below
---
Colors: Red, Blue, Yellow
Bounce House Dimensions - 35' Length x 15' Width x 15' Height
Minimum Participant's Height - 42"
Maximum Jumpers Same Time - 4
Maximum Jumper Weight - 250 lbs.