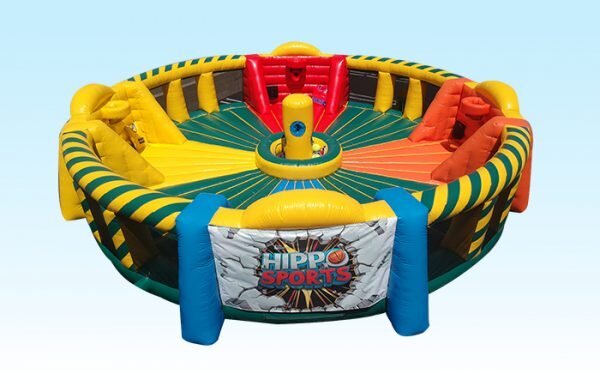 Hippo Bungee 4 Player Basketball
Hippo Bungee 4 Player Basketball
Introducing the Hippo Bungee 4 Player Basketball - the ultimate game of skill, competition, and excitement! Gather your friends, family, or colleagues and get ready for a thrilling basketball experience like no other.
With the Hippo Bungee 4 Player Basketball, you'll engage in a fast-paced battle to see who can score the most buckets. This exciting game combines the classic sport of basketball with a unique twist, adding an element of bungee cord tension to amp up the challenge.
Set up the game in your backyard, at a party, or even at a corporate event - the Hippo Bungee 4 Player Basketball is perfect for any occasion. The sturdy and durable construction ensures hours of fun and entertainment for players of all ages and skill levels.
The objective is simple: each player tries to shoot as many balls into the hoop as possible within a set time limit. But here's the twist - the bungee cords attached to each player's waist create resistance, making it harder to aim and score. The tension adds an element of unpredictability, making every shot a thrilling challenge.
The Hippo Bungee 4 Player Basketball is designed for up to four players, allowing for intense competition and friendly rivalries. It encourages teamwork, coordination, and strategic thinking, as players must work together to outscore their opponents.
Whether you're hosting a backyard party, organizing a team-building event, or simply looking for a fun activity to enjoy with friends and family, the Hippo Bungee 4 Player Basketball is the perfect addition to your entertainment arsenal. Get ready to experience the excitement, laughter, and adrenaline-pumping action of this one-of-a-kind game.
So, what are you waiting for? Step up to the challenge, grab your friends, and see who can become the ultimate Hippo Bungee 4 Player Basketball champion. Get ready to shoot, score, and bungee your way to victory!
Colors: Green, Yellow, Orange
Bounce House Dimensions - 24' Length x 24' Width x 10' Height
Minimum Participant's Height - 42"
Maximum Jumpers Same Time - 4
Maximum Jumper Weight - 200 lbs.