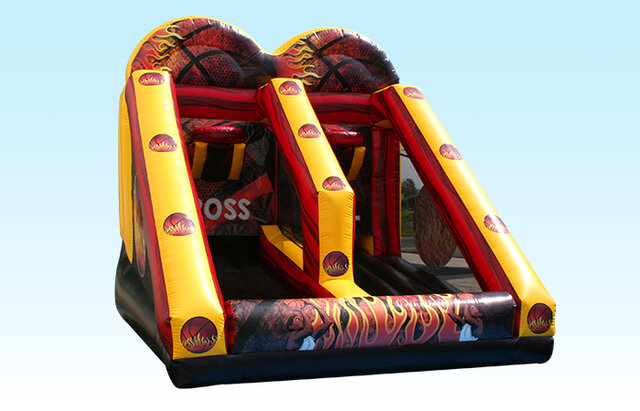 Criss Cross Basketball Game
Introducing the Criss Cross Basketball Game - the ultimate party game for basketball enthusiasts!
Get ready to bring some friendly competition to your next gathering with this thrilling and fast-paced game. In the Criss Cross Basketball Game, players take turns shooting the basketball towards their opponent's side.
The objective is simple - with each successful shot, the ball is sent flying to the opposing player's side. The excitement builds as players strategically aim to clear their own side of the court while trying to overwhelm their opponents. The game continues until one player successfully clears their side entirely, leaving their opponents with no basketballs remaining. This player becomes the ultimate champion of the Criss Cross Basketball Game!
Perfect for parties, family gatherings, or even casual get-togethers, this game guarantees endless hours of entertainment and friendly rivalry. It is suitable for players of all ages and skill levels, making it an inclusive activity that everyone can enjoy. Crafted with high-quality materials, the Criss Cross Basketball Game ensures durability and longevity, allowing you to enjoy countless rounds of fun-filled competition. Its compact and portable design makes it easy to set up and transport, making it a great addition to any indoor or outdoor event.
So, gather your friends, set up the Criss Cross Basketball Game, and let the excitement begin! Get ready to showcase your shooting skills, strategize your moves, and become the last player standing in this thrilling basketball showdown.
---
Colors: Brown, Yellow, Red, BlackInflatable Dimensions - 10' Depth x 10' Width x 12' Height