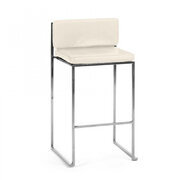 Bar Stool - White Cushion - Gold Frame




For More Information On Reserving Premiere Event Equipment Inventory Please Call The Office At 254-870-8078.

Introducing our elegant Bar Stool with a White Cushion and Gold Frame rental, perfect for any event or occasion. This bar stool is not only stylish but also comfortable, making it an ideal choice for your guests to enjoy a drink or two.
The white cushion provides a soft and comfortable seating experience, while the gold frame adds a touch of sophistication and glamour to any event. The bar stool's design is sleek and modern, making it a perfect fit for any contemporary setting.
Our Bar Stool with White Cushion and Gold Frame rental is made from high-quality materials, ensuring durability and longevity. It is also easy to clean and maintain, making it a popular choice for event planners and hosts.
Whether it's a wedding, corporate event, or private party, our Bar Stool with White Cushion and Gold Frame rental is sure to impress your guests and elevate the overall ambiance of your event. Contact us today to book this stunning bar stool for your next event!