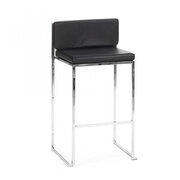 Bar Stool - Black Cushion - Sliver Frame




For More Information On Reserving Premiere Event Equipment Inventory Please Call The Office At 254-870-8078.

Introducing our Bar Stool with Black Cushion and Silver Frame - the perfect addition to your event or party! These stylish bar stools are not only comfortable but also add a touch of sophistication to any space.
With a sleek silver frame, these bar stools are durable and sturdy, ensuring your guests will be safe and comfortable while they sit and chat. The black cushion provides extra comfort and support for your guests, making it easy for them to relax and enjoy the atmosphere of your event.
These bar stools are perfect for any occasion, from weddings and corporate events to birthday parties and family gatherings. They are easy to transport and set up, making them a hassle-free addition to your event.
Don't settle for boring chairs at your event. Rent our Bar Stool with Black Cushion and Silver Frame today and elevate your event to the next level!