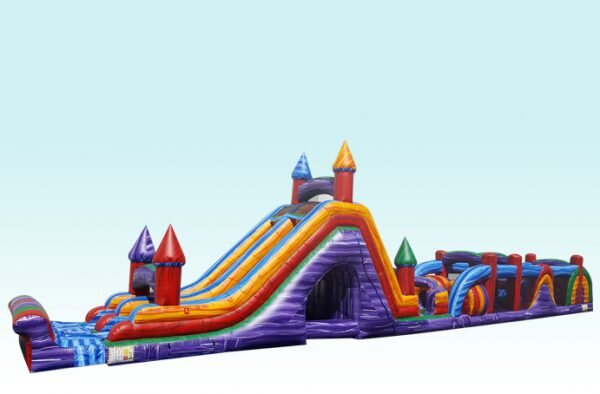 83ft Electric Rush Obstacle Course Wet or Dry
83ft Electric Rush Obstacle Course
Introducing the 83ft Electric Rush Obstacle Course Wet or Dry - the ultimate challenge for thrill-seekers of all ages! This exhilarating inflatable obstacle course is designed to provide endless excitement and entertainment, whether in the water or on dry land.
Measuring a whopping 83 feet in length, this obstacle course promises non-stop action from start to finish. With its vibrant colors and eye-catching design, it will instantly grab the attention of anyone looking for an adrenaline-pumping experience.
Featuring a combination of thrilling obstacles, including crawl-through tunnels, towering slides, and challenging climbing walls, participants will have to navigate their way through various challenges to reach the finish line. The wet or dry feature adds an extra element of fun, allowing you to enjoy this exciting course in any weather condition.
Safety is our top priority, which is why this obstacle course is constructed using high-quality materials that meet industry standards. The sturdy construction ensures that it can withstand the most energetic of participants, providing a safe and secure environment for everyone.
Ideal for birthday parties, corporate events, school functions, or any gathering that calls for an unforgettable adventure, the 83ft Electric Rush Obstacle Course Wet or Dry is sure to leave a lasting impression on everyone who dares to take on the challenge.
So, why wait? Get ready to experience the thrill of a lifetime with the 83ft Electric Rush Obstacle Course Wet or Dry. Book it now and let the excitement begin!
---
Colors: Red, Blue, Yellow, Purple
Bounce House Dimensions - 83' Length x 12' Width x 22' Height
Minimum Participant's Height - 42"
Maximum Jumpers Same Time - 4
Maximum Jumper Weight - 250 lbs.