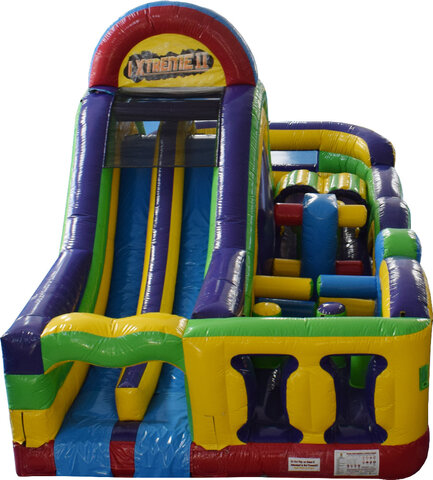 Retro Xtreme Obstacle Course Dry or Wet
Retro Xtreme Wet/Dry Obstacle Course
Provide partygoers of all ages with over 40 feet of fun and action with one of our Obstacle Course party inflatables! This massive inflatable features a variety of challenges and obstacles for participants to run, jump, and climb across, including a wall they need to scale, obstacles that forces them to squeeze through a small opening, and more! All of our inflatables are fully inspected and clean in between rentals, and with Waco Bounce House Rentals, you get guaranteed on-time delivery with every order! Add the excitement of our Obstacle Course to your next party or event and make your reservation today!
Request water option on your order for us to attach the pool at the end of the water slide! Pictures below
---
Colors: Red, Blue, Yellow
Bounce House Dimensions - 35' Length x 15' Width x 15' Height
Minimum Participant's Height - 42"
Maximum Jumpers Same Time - 4
Maximum Jumper Weight - 250 lbs.